Imagine driving 90 miles one way, 5 days a week, so your child can receive the therapy he desperately needs. This is what the McRee family has done for almost three years to receive services at the AutismETC Nashville location. The McRee family includes Aaron (dad), Kimberly (mom), Liam who is six years old and baby brother Logan, who is 10 months old.
Liam's story begins when he was about 5 months old.
Kimberly started noticing things did not seem quite right with him. "I talked to my pediatrician about my concerns, but she told me not to worry," said Kimberly. "But the abnormalities continued, and we changed pediatricians. Our new physician recommended we go to Vanderbilt for a diagnostic evaluation. Liam was diagnosed with Autism Spectrum Disorder when he was 3 years old." Kimberly went on to say, "Liam started the preschool program at Vanderbilt, but continued to have behavioral issues. I felt like he needed one-on-one help so I startedlooking for services on the internet. I googled behavioral therapy and discovered AutismETC."
Kimberly went on, "Before coming to AutismETC, Liam had several behavior issues. He refused to participate in pre-school activities, he flopped down on the floor when he did not want to do something, and he would elope from us. His speech was limited, and he seemed miserable."
When Liam began services at AutismETC, the McRee's were excited after their first meeting. "I felt like the staff would work on all the issues affecting Liam," said Kimberly. "They brought us hope. I knew we had finally found where he needed to be – a place to help him with everything he needed."
Liam participates in the Day Therapy program, full-time, from 9 am to 3 pm Monday through Friday.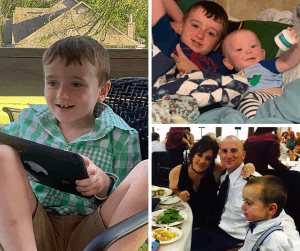 When asked what impact the training has had on her family, Kimberly responded, "They have been amazing. I can ask anything. I never feel uncomfortable talking to them. If I have a question, I can call, text, or talk in person to the staff that works with Liam. Everything they have suggested seems to work. This staff has seen it all and they have a wealth of ideas to share. As a parent, being with your child 24/7, you become focused and sometimes unable to see the big picture. Their suggestions have been life-changing. I sometimes think, why did I not come up with that?"
Kimberly reflected on Liam's progress at AutismETC. "He has made huge progress since he has been here. He went from barely speaking 3 words to now talking your ear off. His speech has improved a crazy amount. Before it had been a struggle going places because of elopement or him flopping on the ground. His behaviors have greatly improved. Liam has gone from 5o refusals per day to about 2 or 3 per day. Family members who see him on occasion are blown away about his progress. They comment that he is a completely different kid. He is communicating, he is happy, he can express his needs, and he can do things easier." Kimberly went on to say, "I attribute Liam's progress to the staff that does not give up. Their consistency and dedication to finding solutions have made the difference."
"I see him doing pretty much anything he wants to do."

Kimberly
When asked what advice she would give to the parents of a child that has just been diagnosed, Kimberly responded, "Trust your gut. You know your child better than anyone else. If you feel your child needs something, express your concerns to your doctor and therapists. Don't give up. Keep fighting and you will get the answers. You will find the right place."
As Kimberly reflects on Liam's future she said, "I see him doing pretty much anything he wants to do. This was not the case before we came to AutismETC. With his lack of communicating, flopping on the floor, and elopement issues, normal activities were not possible. Liam now starts conversations and interacts with people. I believe he will be able to attend a typical public school. He loves to talk to anyone he meets and make friends with other children. I am confident he will attend school and be able to work. His progress in the past 3 years has given me tremendous hope."
The dedication of this family to Liam's therapy is amazing. The McRee's live in Pulaski, Tennessee, almost 2 hours away from Nashville. They have chosen to live there because it allows Aaron (who is in the military and stationed 4 hours away in Alabama) to spend weekends with the family. "I make the drive five days a week" said Kimberly, "because the drive is worth it."
Disclaimer notice: the family featured in this piece is that of an Autism Education & Therapy Center former client. This testimonial was created and solicited by non-BACB®-credentialed staff of Autism Education & Therapy Center. The client's former BCBA® was not involved in the creation or solicitation of this testimonial, is not actively providing services to the client, and has no relationship with the author of this piece.