Autism ETC's August Family of the Month is The Fuller Family: Adam (dad), Danielle (mom), and their son, Elijah.
Danielle and other family members became concerned about Elijah between his first and second birthdays.
Elijah was non-verbal; he would not make eye contact; he would stare at ceiling fans; and to express his warrants and needs, he would lead his caregiver to the item rather than simply telling them what he desired. Both Adam and Danielle made the decision to speak with their pediatrician about their concerns. The pediatrician referred them to Vanderbilt for testing.
There was a 6 month wait for him to be tested at age 2. Elijah was diagnosed with Autism Spectrum Disorder.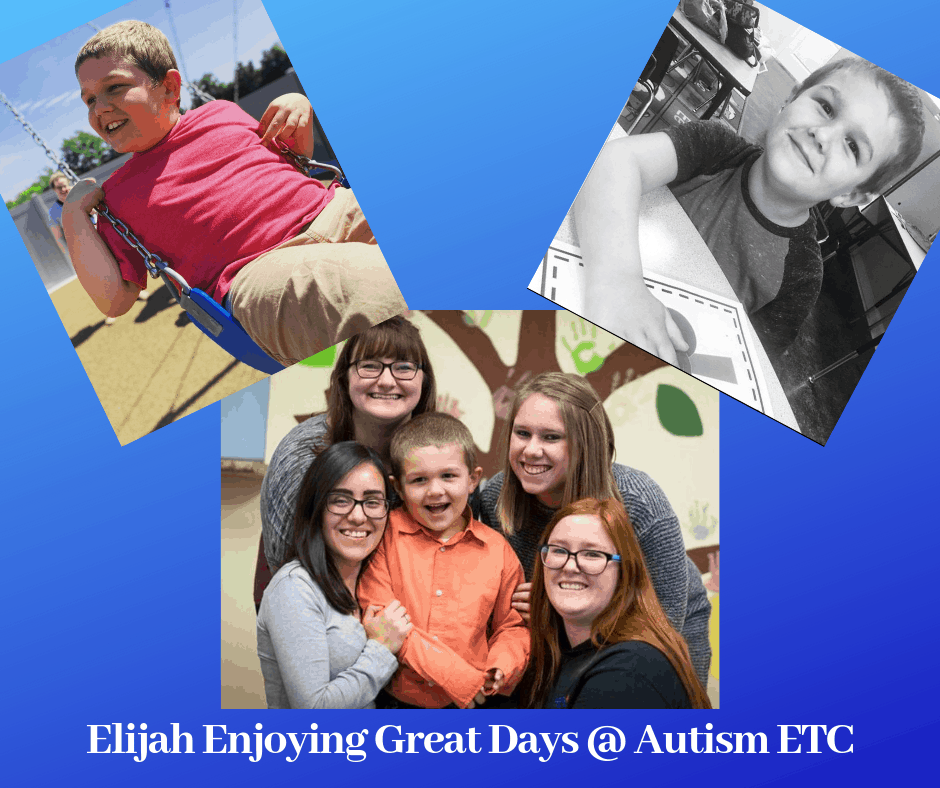 Soon after his diagnosis, Elijah began receiving services through Tennessee Early Intervention Services. However, when he turned 3 years old, Elijah was no longer eligible for the program. The family immediately started ABA services with a local, individual provider. However, when the provider moved out of the area, Danielle was forced to search for a replacement. She found Autism ETC through a random internet search.
"Autism ETC directed us to grants and other assistance programs. In 2017, we enrolled Elijah into the Day Therapy Program. Elijah's therapist knew how desperately he needed the services and fought for him with the insurance company. We were finally able to get services approved."

Danielle
When Elijah started services at Autism ETC, Danielle said, "He needed help with activities of daily living. He could not feed himself with a fork and spoon. He was not putting on his clothes. His only way of communicating was leading us to what he wanted. He was not potty trained and he did not socialize with other children. When we started with Autism ETC, Elijah was only receiving 2 hours of therapy per week. I knew he needed more hours, so I talked with Elijah's therapist about their Day Therapy Program. We were soon frustrated to learn our insurance would not cover the needed therapy. We were desperate and discussed the costs for services. We knew we had to do something to help our child. Autism ETC directed us to grants and other assistance programs. In 2017, we enrolled Elijah into the Day Therapy Program. Elijah's therapist knew how desperately he needed the services and fought for him with the insurance company. We were finally able to get services approved."
Danielle went on to comment, "The training offered by the staff has been very helpful. I participate in the Community Training Workshops offered by the center. These workshops have helped me learn to take the knowledge from the clinic setting and use it in the home. These workshops have also given me an opportunity to meet other families with children on the spectrum. These parents have been a huge source of support."
When asked about the progress Elijah has made since coming to Autism ETC, Danielle said, "Elijah now feeds himself using a fork and spoon and he can drink from an open cup. He is able to dress himself, although he is still learning to put his socks on. He is learning to use an augmentative and alternative communication (AAC) device to communicate his wants and needs. He continues to work on language development. He is able to follow 1 and 2 step directions, he can identify body parts, and he is making progress with potty training. As a mom, I see any progress my child makes as wonderful progress."
"I would love to see him be able to go to a typical school. I have had to homeschool him because the school was unable to meet his needs. I believe in the future, he will be able to attend school and be able to communicate with others."

Danielle
Danielle shares these words of hope to parents of children who have just been diagnosed and are seeking services: "Hang in there. It's a bumpy road. You will have to fight for services. Early intervention is important and the hard work you put in now will help your child reach their potential. ABA works and consistency is the key."
Looking to the future for Elijah, Danielle shared, "I would love to see him be able to go to a typical school. I have had to homeschool him because the school was unable to meet his needs. I believe in the future, he will be able to attend school and be able to communicate with others. I look to the time when Elijah will be able to independently care for himself. I want him to be happy and want him to have a life of peace."